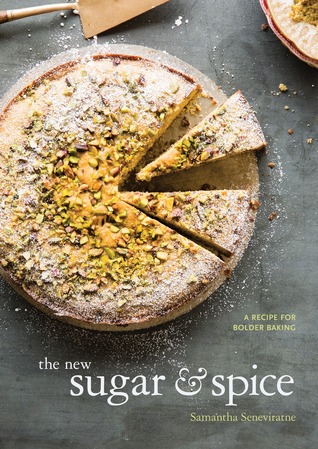 My family is made up of artists, cooks and decoraters it seems. Many of us juggle all three as well as a variety of other talents. My role in entertaning, apart from the decorating and art side of course, often falls to the baking. I am known for creating unusual and at times difficult pastries and such. When I saw the title of this new cookbook along with its front cover and enticing description, I knew I had to get it. What I have not mentioned yet about myself is my love for unique spices. I think spices, when used correctly and yet uniquely can make each and every recipe mouthwatering and amazing! This large hardcover cookbook also has beautiful photographs which appeal to my visual self. You will love flipping through the pages of this book and be prepared to become powered with inspiration for future baking! I am excited about this new cookbook and know you will be as well. Get it in time for Autumn and Winter baking!
A wonderfully unique and unexpected collection of desserts that showcase spice over sugar, with 80 recipes that both reinvent classic sweets and introduce more unusual spice-infused desserts.
In Sugar and Spice, veteran food editor and recipe developer Samantha Seneviratne invites readers to explore a bold new world of spice-centric desserts. Each chapter centers on a different spice--some familiar, like vanilla, cinnamon, and ginger; others less expected (especially in sweet preparations), such as peppercorns, chiles, and cardamom. With fascinating histories, origin stories, and innovative uses for each spice, this book will inspire readers to rediscover and re-stock their spice drawers, and raise their desserts up to a whole new level of flavor.